DIGITAL MARKETING
EUROPE 2022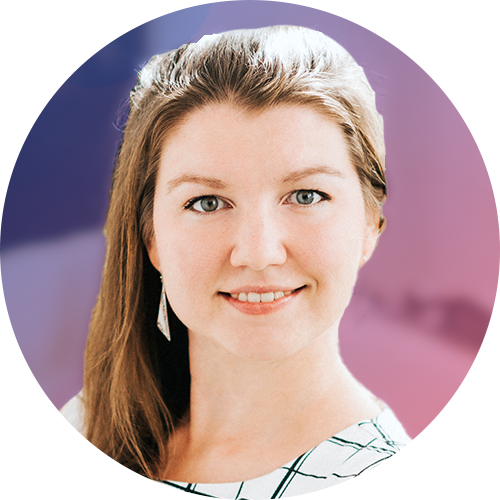 Katrin Vilimaa-Otsing has worked in marketing for almost 10 years both in media and creative agencies. During that time, she has acquired a ton of experience and knowledge that she is willing to share with you.
Katrin is especially skilled in data driven marketing and campaign management. Her studies in computer science and economics is an excellent background for combining digital marketing tools to help companies achieve their goals. She runs a small consulting agency and is offering in-house trainings on various topics ranging from social media management to Google analytics and tracking tools.
Marketing and entrepreneurship are her passions and in addition to practical experience she keeps up with industry trends and updates by following different experts/courses and attending relevant trainings. Katrin has completed many certifications (Hubspot, Google, Hootsuite) and is a member of many digital marketing programs.
Katrin helps her clients to achieve their business goals by consulting, creating digital media strategies, executing marketing campaigns and doing in-house trainings and courses.
Create and Measure Facebook Campaigns Like a Professional. Deep Dive Into Facebook Business Manager Possibilities
Setting up a Facebook campaign may seem like rocket science at first – so many different buttons and options to choose from. What do all these settings mean and how to choose between them to avoid wasting money on ads? How to even know if my campaign is successful or not?
This workshop is for you if you have ever felt overwhelmed by Facebook ads manager options or want to use all Facebook marketing possibilities instead of just hitting the "Boost post" button.
The workshop will cover the process of planning a campaign from scratch and implementing it using Facebook ads manager. You will learn how to calculate your optimal budget, determine your ideal audience and even get an Excel spreadsheet to evaluate different ROI scenarios.
Part 1: Intro to campaign planning essentials:
Campaign goals and choosing the right KPI-s
Value proposition, USP
Target audience analysis + tools
Part 2: Campaign strategy and structure
How to structure you campaign (funnel, targeting, placements, creatives etc.)
Calculating optimal budget (formulas provided)
Things you need to know and do before going live with your campaign
Part 3: Hands on campaign set up with all settings explained
Setting up a campaign in FB ads manager – hands on step by step guide
Different examples and strategies to achieve your goals
Part 4: Optimizing and analyzing campaigns
How to use different reporting options to determine what works and what does not
Daily/weekly/monthly optimization checklist
ROI calculations (Excel template provided)
The main goal is to show all participants how FB ads manager can be a very powerful tool if used correctly. If you implement the knowledge from this workshop your next campaign will be more efficient than the last one because you know how to use data from previous campaigns.
People who want to plan and create successful Facebook campaigns. Entrepreneurs, marketers, freelancers – everyone who is interested in more strategical approach to campaign planning rather than "spray and pray" or "boost post button".
Access to at least one FB ad account and one FB fan page to be eligible to set up a campaign through ads manager. Access to Google Analytics is a plus for getting info about past campaign performance

Historical data of past performance will be very useful for calculations (conversion rates, average order values, different cost metrics for past campaigns etc.

Basic knowledge about PPC campaigns will come handy – there will be quite a lot of material to go through and it might be a bit overwhelming for beginners

General idea of a campaign you are planning to run soon so you can do the exercises with a particular brand in mind
We love email, and you should too. Your inbox is where you'll find all the latest announcements and deals.